Halal Financing Seminar with Calc. Rates as low as 1.55% | Transfer your Mortgage! Q&A Financing Segment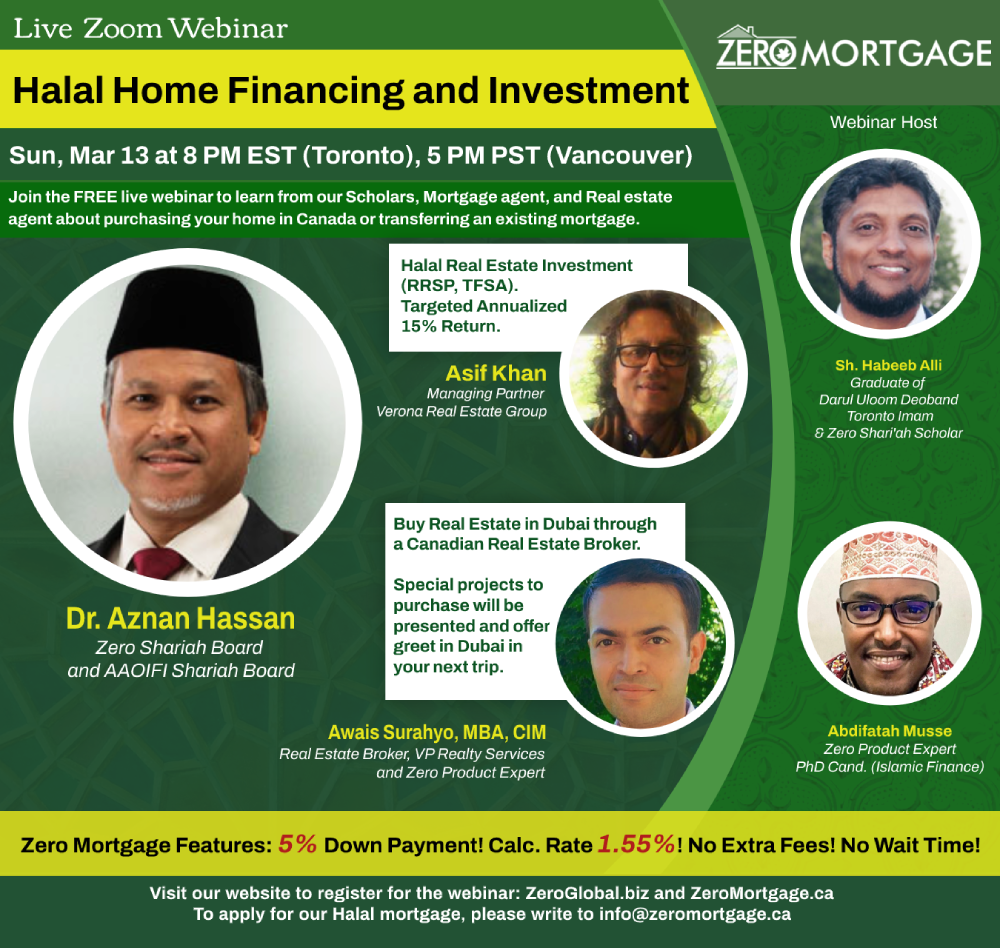 Date: Sun March 13th, 2022
Time: 8:00 pm (Ontario/Quebec), 6:00 pm (Alberta), 5:00 pm (British Columbia)
(Please note of daylight saving time)
Webinar Registration (Required):
 
Profile of Speakers is in the link above.
 
Agenda Topics:
8:00 pm - Introductions and Explanation of Zero Mortgage Diminishing Musharakah by our team.
8:10 pm - Lecture on Importance of Halal Financing and Investment by Dr Aznan Hassan Zero Shariah Board and AAOIFI Shariah Board.
8:25 pm - Verona Real Estate Groups how they are Halal and RRSP, TFSA Eligible (Asif Khan Managing Director and AbdulHaq Ingar Senior Advisor)
8:40 pm -  Questions and Answers with Speakers
9:00 pm - Awais Surahyo Canadian Real Estate Broker presents investment options in Dubai.
9:10 pm -  Questions and Answers with Mortgage Agent on Qualification and Process. Zero Staff will join to answer any other questions.
Join this webinar to learn more about Halal Financing, Pre-Qualification process, Working with a Zero Referred Realtor. Question and Answer Session (Please email your Question to 
[email protected]

)
Learn about 
AAOIFI Shari'ah board members
 on their official website.
With our Halal Home Financing Canadian Muslims for the first time can avail to:
Same pricing as all Canadians. Our rental calc. rates are as low as 1.55%
Minimum 5% down payment, Unlimited funding with no wait time. Available Across Canada.
Zero Extra Fees, Zero Extra Cost. We have no hidden cost.
Scholars signing our fatwa sit on over 50 Islamic banks internationally
We do not share in the capital gains or rental income
VERONA REAL ESTATE GROUP - INFORMATION
Read our latest blog article on how Zero Mortgage product is 100% Halal & Shari'ah compliant according to world renown scholars. 
---
Zero has partnered with United Nations High Commissioner for Refugees (UNHCR) to serve the needy. 
Donate through special Zero Mortgage donation link below: 
Zero Mortgage is an independent source for alternative mortgage
Fill this form and a mortgage agent will be assigned to you to answer all your financial questions.
---
To schedule a call with Zero please click on the following link: